Support Your Child's Speech with TalkiPlay
TalkiPlay is a small but mighty communication support tool that can help your child develop their confidence and overcome speech delays.
TalkiPlay comes highly recommended by speech pathologists and happy parents across the country who have witnessed the benefits of this hand-held therapy tool.
My daughter couldn't talk, and it felt like she never would until using TalkiPlay. It worked! It made practicing her speech magical. She gained confidence and her speech grew rapidly.
Speech Pathologists recommend TalkiPlay at home
"As a parent, I know how daunting it can be when children need more support to reach development milestones, and how difficult it might be to know where to go for help, and who to trust for advice.


As a Speech Pathologist, I have worked closely with families to provide the information and strategies they need to boost their child's communication skills. But as many of you know, accessing expert advice and support is especially challenging just now with long waiting lists. TalkiPlay offers a fun, engaging way for parents to help children with speech and language, that doesn't feel like hard work!

TalkiPlay turns frustration into giggles as children learn through play."
Kathryn Marrington
Head of Speech and Language
TalkiPlay
How does TalkiPlay help my child?
"For many parents with children experiencing speech difficulties, communication can be a frustrating and emotionally exhausting experience. TalkiPlay is a tool for speech therapy that supports your child's language development by teaching them new words.
TalkiPlay helps children practise their speech and language skills through play! Simply arrange the 'smart' stickers around your home and have your child tap the tags with the device to hear the rainbow speak.
Our autism therapy tool uses a play-based learning model. Parents attach the 'smart stickers' to everyday items, like toys or furniture, initiating a TalkiPlay game. Through the app, TalkiPlay guides your child through the game. As your child completes activities, the game rewards them and tracks their progress.
If your child is awaiting a diagnosis for autism, in a long queue to see a speech pathologist, needing extra support at home between therapy sessions, or not meeting talking milestones TalkiPlay can help support their speech development.
What's included in your TalkiPlay Kit
Our TalkiPlay Base Kit features everything you need to kickstart your child's communication journey. It includes one TalkiPlay speaker in a sleeping bag, the charging cord, one wooden rainbow set of 'smart' stickers and 12 additional 'smart' stickers that you can use with your toys to extend your child's vocabulary further. 
Parents will also need to download the TalkiPlay app to activate the device and program the tags.
If you 'd like an invoice for NDIS claims please use this link to request an invoice from one of our helpful TalkiPlay team members: NDIS – TalkiPlay
What's in the Base Kit?:
1 x TalkiPlayer device – I'm cute, yellow and I am your child's hand-held speech & language guide to take home and keep.
1 x Wooden Rainbow Set.
1x  TalkiPlayer recharge cord.
1x TalkiPlayer protective bag.
12 x Extra smart stickers.
1 x TalkiPlayer companion app free to track your child's progress.
1 x TalkiPlay game token to unlock the next speech game of your choice for free.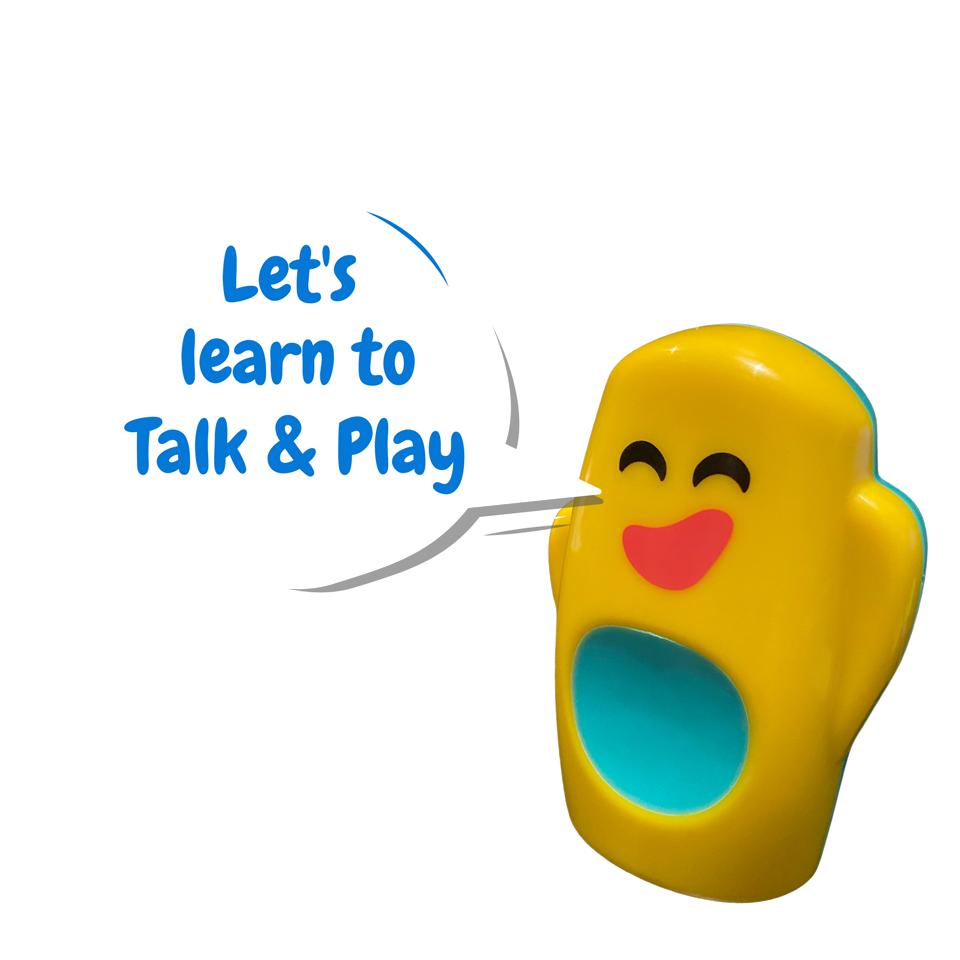 TalkiPlay makes learning fun! Our trials showed children are more engaged in language activities when they were led using TalkiPlay.
- Goodstart Early Learning
Every parent wants to see their child reach developmental milestones and have fun along the way. TalkiPlay is an autism learning tool that can help achieve both. Give your child the confidence to learn new words and develop their speech skills by picking up a TalkiPlay Starter Kit.
Like to learn more about out how TalkiPlay can support your child?
Fill out your details below and we will send you our digital TalkiPlay information pack you can share with your speech pathologist